Being in a restaurant business or any other food service establishment, a menu would be one of the most common material that you need. Not only do menus show your products, they are also a branding and marketing material for your company. Thus, it is important to create an eye-catching, well engineered and informative menu. 
Whether for your business such as a restaurant, cafe, or bistro, or if you simply want a menu for an elegant and formal dinner at home, we have the Best PowerPoint Templates for Making Menu Presentations. These templates are easy-to-use templates that you can download for free. From beginners to expert PowerPoint Presentation users, you can benefit from this menu template for any occasion or need.

Fresh Green Apple Menu Template
This Fresh Green Apple Menu Template is everything that you want to see on your menu–fresh, succulent and vibrant-colored food. This template for PowerPoint is best for presentation topics ranging from farming and harvest, to organic food right at your plate. You can also use this template to present the various menu or grocery items that you have in your store.
For its cover slide, the template contains a photo of green apples that look like they are freshly picked from the orchard. These juicy apples will surely catch the attention of your guests or audience and make them interested to learn more. The inside slide allows you to complete your presentation while retaining the fresh, green apple theme.
Go to Download Fresh Green Apple Menu Template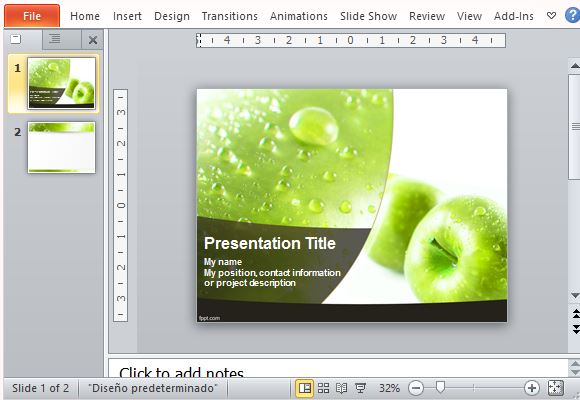 Bite Into Succulent Red Apples
If you are not a fan of green apples, then this next template may be perfect for you. This Juicy Red Apple PowerPoint Menu Template features fresh, juicy and enticing red apples to make your audience go hungry just by looking at your presentation. This template is perfect for farming, orchards, organic gardening, organic fruits, healthy benefits of fruits, and so many more.
This template contains a cover photo that features fresh, juicy red apples on the first half of the slide. The title of your presentation can be typed in the bottom half on the red background that goes across the slide. The three inside slides contain various layouts that retain the bright red theme.
Go to Download Juicy Red Apple PowerPoint Menu Template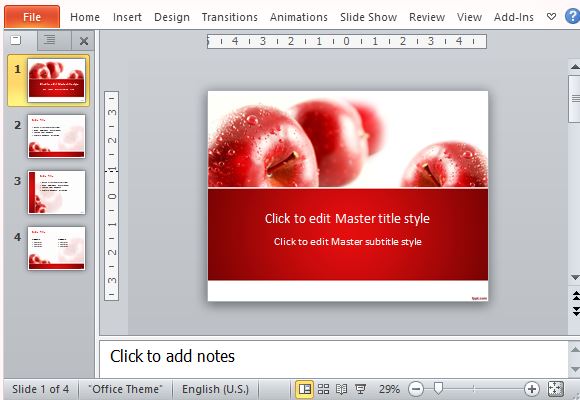 Get Ready for Dessert With This Template
Nothing is as sweet and enticing as fresh strawberries and rich whipped cream. If you want to make your audience hang on to every word in your presentation, you better have this Strawberries and Cream Presentation Menu Template for PowerPoint as your template.
This template features a heaping bowl of fresh strawberries and a generous dollop of whipped cream on top. The cover slide allows you to type in your presentation title easily and make it equally easy to read for your audience. The remaining three slides have varying layouts to allow you to present your data in various ways while still maintaining the delicious, mouthwatering theme.
Go to Download Strawberries and Cream Presentation Menu Template for PowerPoint