If you are a company who relies on sales, you would need to have a sales plan that would help you determine your sales goals and the activities or steps you need to take to reach those goals. A sales plan will also help you create a roadmap to maximize your resources and direct all activities towards increasing sales, and ultimately, revenue.
In this article, we will discuss two of the best Free Sales Plan Templates that you can use for PowerPoint, as a way to report to your company, shareholders, or employees. These templates help you cut down the time of creating a sales presentation in half, as compared to creating one from scratch. Here, the templates come with guides to help you create a cohesive and convincing sales plan.

Impress with This Clean, Blue Sales Plan Template
The Blue Yearly Sales Plan PowerPoint Template has a streamlined, clean white and blue theme that allows you to present your ideas without the background overshadowing or overpowering the content. The templates feature borders and shapes to highlight headers and frame your content.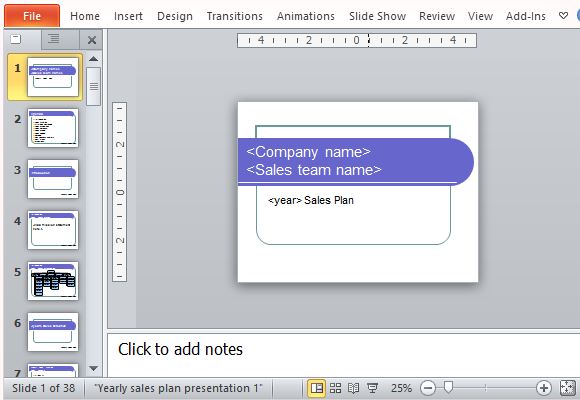 This sales plan template contains 38 uniquely designed slides that you can use not only for sales plans but sales reports. These slides allow you to present your plan and information in a cohesive, organized manner without having to start from scratch, which can tend to be tedious and time-consuming.
This template already has sample headers and subheaders that also provide an outline so that you can be guided as you create your own sales plan.
Go to Download Blue Yearly Sales Plan PowerPoint Template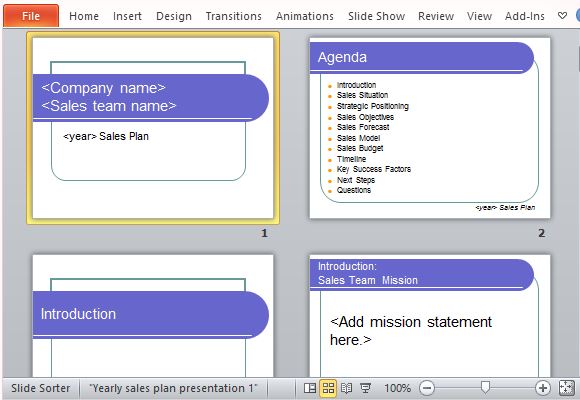 Create a Winning Sales Plan in Gold
The Gold Sales Plan PowerPoint Template is another sales plan that is professionally designed to stand out in a highly competitive sales rat race. To create a winning sales plan and make your mark in the market, you have to make a lasting impression and that starts with this template.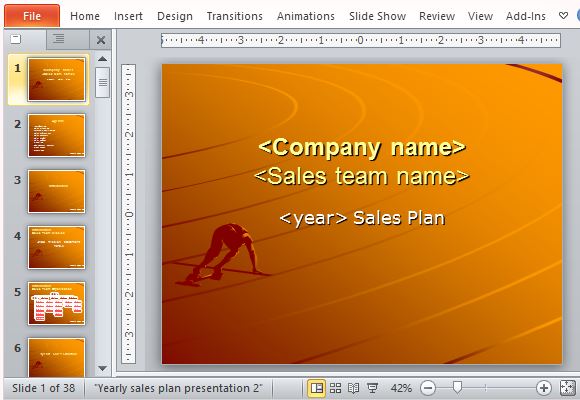 This Gold Sales Plan PowerPoint Template has a gold-colored theme, with an image of an athlete getting ready to race. This imagery is apt since making sales and reaching your sales quota is a race in itself.
This template also contains 38 slides that allow you and your team to be motivated as they get geared up for the next year, quarter or month. The template also contains headers that allow you to organize your ideas and present them in a smooth, logical manner.
Go to Download Gold Sales Plan PowerPoint Template