A financially stable and secure retirement is every working person's dream. Almost everyone thinks about having their dream retirement scenario and are presently bent on achieving that someday. It's been said that people as young as those in their early 20s should start considering saving up for retirement, even if they start small. In this race, it is the one who starts first that usually wins.
Here at Free Office Templates, we will give you a list of the Best Free Retirement PowerPoint Templates that you can use for creating a retirement plan presentation. You can use these templates whether you are someone in the retirement plan, product or home business, or if you yourself want to create a presentation about your own retirement plan. For whatever reason, these templates are wonderfully designed to be all about that inevitable time in all our lives.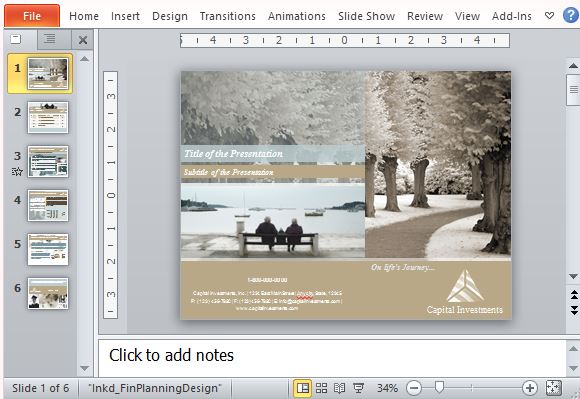 Free Seniors PowerPoint Template
The Free Seniors PowerPoint Template is an elegantly designed presentation template that is elderly-themed without being too loud or blatant. It is still elegant and sensitively designed for topics concerning the elderly such as retirement, pensions, and many more. This template contains an image of two elderly people, a male and a female. Just by looking at the title template, your audience can already tell what your presentation will be all about. It also contains a number or well-designed slides that you can use for displaying your content whether in text, images, tables, charts, and more.
Go to Download Free Seniors PowerPoint Template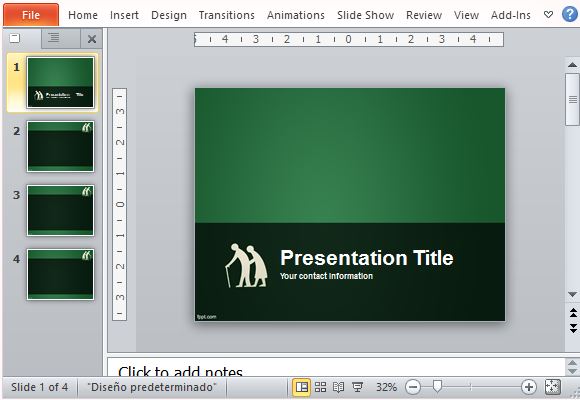 Financial Planning Video Template for PowerPoint
The Financial Planning Video Template is a professionally designed PowerPoint template that you can use to present various financial planning facts and data to convince a prospect to buy your product or to start planning for their own retirement. This template is beautifully designed to evoke a peaceful feeling and bring its audience to the future of having a wonderful retirement life. This six-page template contains various layout designs that you can use to display all sorts of data. They are all brought together by a cohesive and beautiful theme that would make all your slides look cohesive and seamless.
Update:
This template has been removed from the Microsoft Templates Gallery, you can download alterntive Premium templates from the links given below:
Go to Download Age of Fiscal Independence Template for PowerPoint (Premium Template)
Go to Presenter Media – Animated Retirement Presentation Templates and Clipart (Premium Templates and Clipart)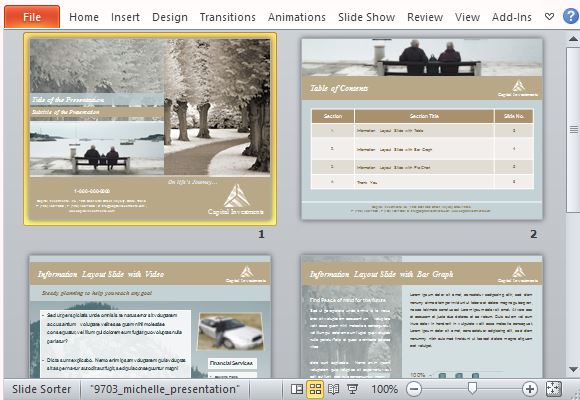 Retirement Planning Design Template for PowerPoint
The Retirement Planning Design Template for PowerPoint is a beautifully designed template that you can use to attract and glue your prospect's attention. This template is designed much like a sales pitch template but this one is geared towards retirement products. It contains an interesting and eye-catching title slide where you can easily see the ideas to be discussed by the rest of the slides. The succeeding slides allow you to play with many of your own layouts while still retaining the slide design so that your presentation will have one brand message and you can better convince your prospects.
Update:
This template has been removed by Microsoft, you can download an alternative template via the link below.
Go to Download Retirement PowerPoint Template (Alternative Template)