Many people may have participated in petitions at one point or the other. Petitions are usually these signature drives or campaigns about advocacies that people feel strongly about to urge higher ups to create orders, rules, or even laws for. Whether these are community, environmental, or political, a cause will have a way of being heard when it is backed up by a huge number of people, as represented by their signatures in these petitions. 
Free Petition Templates for Microsoft Word
In this article, we will show you some of the best free petition templates for Word that you can use to further your cause or push for change. These free Office templates can be downloaded from Office.com links given in this post.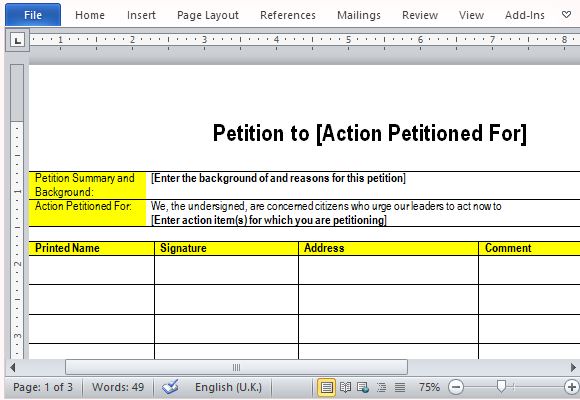 Collect Signatures to Create Change With Free Petition Template for Word
A petition is a request signed by many people, and it is usually addressed to a public official, or institution or community leader. The templates below provide adequate space for a well-prepared petition for any cause.
The Free Petition Template for Word is a basic template for collecting signatures from various individuals within your organization or community. The Word Template allows you to cite whatever cause you want to shed light on and be acted upon by your community or organizational leaders.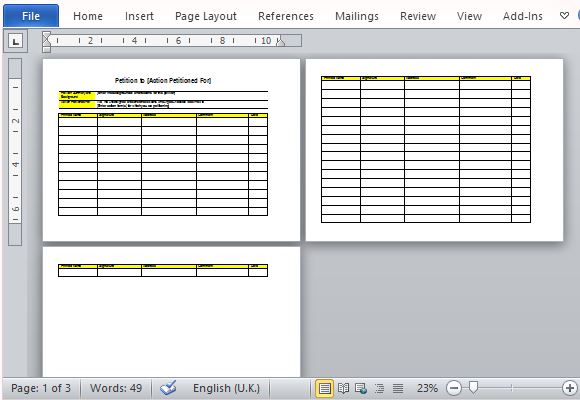 Get Your Community Involved
This Free Petition Template for Word is fully downloadable from the Office portal. It is also printer-friendly and can conveniently fit an A4-size paper in landscape format. This layout and orientation gives you enough space for people to write on their Names, Signatures, Addresses, and Dates of Signing. There is also adequate space on the template for people to include short comments and messages that they want to be read by the leaders the petition is addressed to.
To highlight your cause, the Title formatting at the very top of the template allows you to type in big bold letters the Action Petitioned For. Below, you can type a short summary or description for the petition.
Go to Download Free Petition Template for Microsoft Word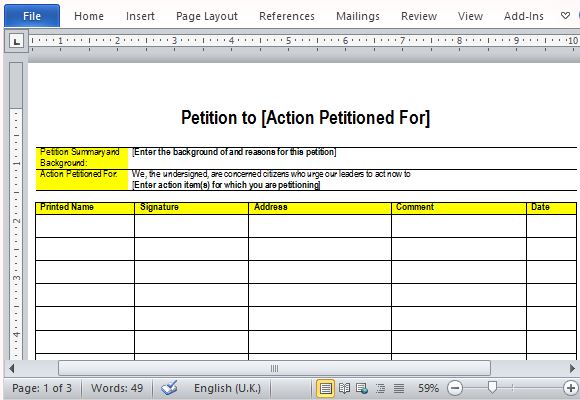 Petition for Divorce Template for Word
There are also other petition templates available on the Office portal, such as the Joint Petition for Divorce Template for Word. Although this tackles legalities in marriage, it is still a petition in as much as it allows for a legal request for either the husband or wife, to file a divorce. The signature must come from both parties to show a mutual decision.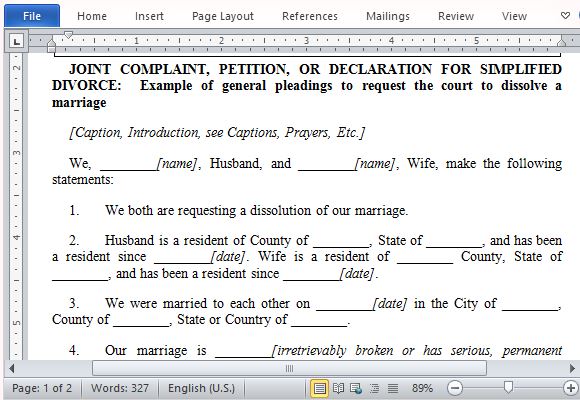 Unlike a Complaint for Divorce, which is another document needed before divorce proceedings can start, this Joint Petition for Divorce is a "no fault" petition for ending a marriage. This means that both parties want to end the marriage without filing any complaint or liability on one or both parties.
Go to Download Joint Petition for Divorce Template for Microsoft Word