Whether you're someone using the latest edition of MS Word and prefer the Docx format or wish to create files with the new Docx format out of Doc documents, converting files manually via the Save as menu isn't practical if you have dozens or hundreds of files. We have a simple solution for you by which you can batch convert Word documents from Doc to Docx format.
Batch Process Documents Utility
The Batch Process Documents utility is a free tool which can help you convert files from Doc to Docx in batch. Furthermore, you can also batch convert Word documents to PDF, replace date fields and more. You can download this utility from the link at the end of this post and begin batch conversion by hitting the Process Documents option via the Add-ins tab.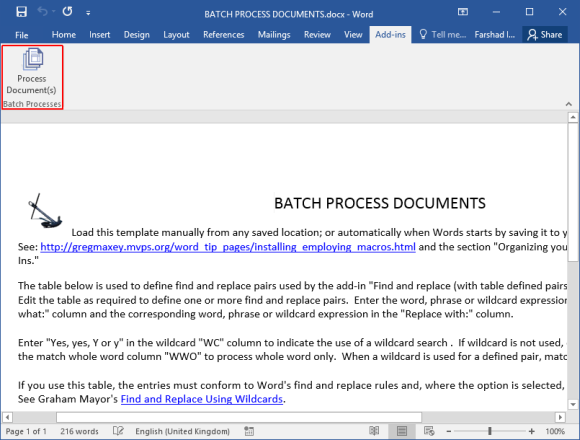 Convert and Edit Documents or Password Protect them in Batch
This utility not only provides batch conversion of Word files between old and new formats but also allows editing specific parts of the document and password protecting Word files in batch. Once you click Process Documents option, you can select the folder from which you intend to convert, password protect and edit files and continue to select the respective batch option from the drop down menu.
As you can see from the image below, you can convert older format documents, convert files to PDF, replace smart and plain quotes, find and replace with table defined pairs, as well as provide a password and include templates in processing.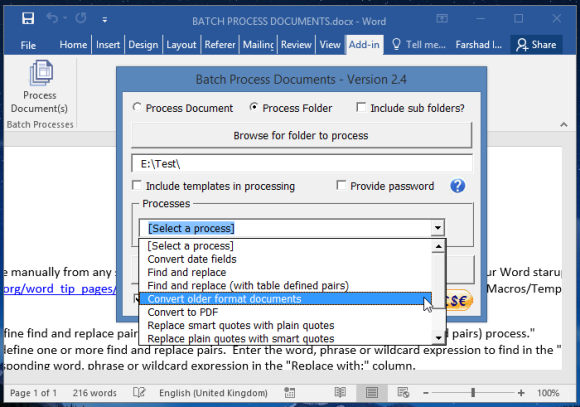 You can choose to convert either the selected folder or also the subfolders. Click Begin Processing for the documents to be converted.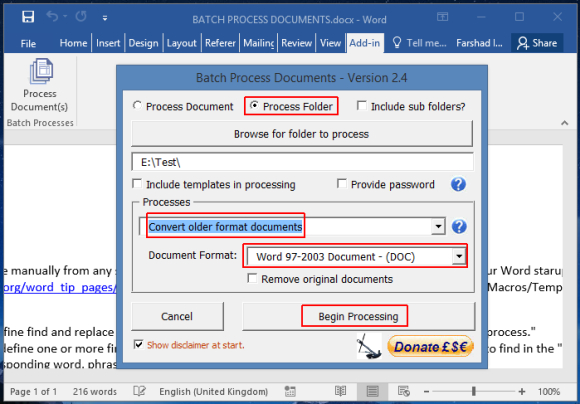 The conversion process should not take long, depending upon the number of files in the folder or subfolders that are to be converted.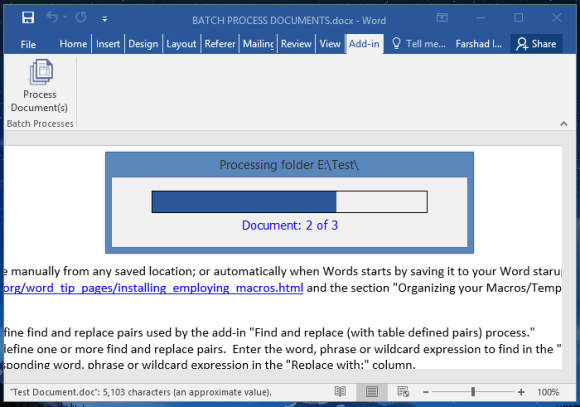 You can download this VBA add-in from the below given link. The add-in comes in the form of a template from which you can run the utility via the Add-ins tab.