If you are planning to throw a baby shower for a dear friend, colleague or family member, you know that making it special and memorable may not be that easy. A baby shower is a special celebration of welcoming a baby into the world. It also honors the mother for her strength and sacrifice for carrying a baby for nine months and giving birth.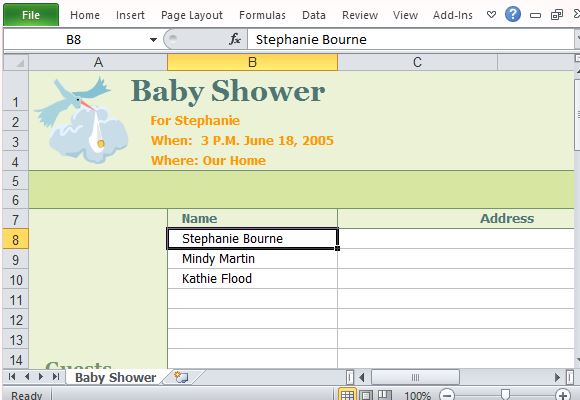 For such a special phase in a woman's life, a special celebration is also necessary. You may have so many baby shower ideas in mind and before you know it, you are confused. To help you get started on the right track, you may find this Baby Shower Planner for Excel a helpful companion for your baby shower planning needs.
Keep Track of Your Event Planning Basics
From the beginning until the end, you and the expectant mother can celebrate a baby shower with family and friends without any worries. You can expect the baby shower to go smoothly and without a glitch by using this planning template for Excel.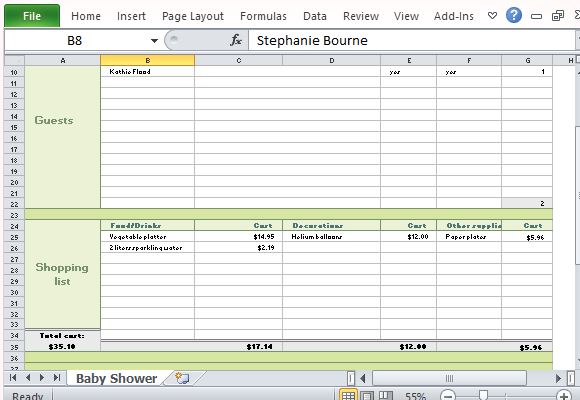 This Excel Template is designed specifically for baby showers. With it, you can keep track of your guests, schedule, menu and shopping lists so you do not forget anything. It is user-friendly and has new features in Excel 2013 yet is still compatible with earlier versions.
Personalize for Your Own Theme and Event Needs
The template contains a single worksheet that features a photo of a stork carrying a baby, which is a very common image for newborns and babies. The theme is light and easy on the eyes as well. Still, you can customize the theme, design and style of every aspect of the template depending on your own motif. If you are celebrating a baby shower for a baby girl, then you can change the color to pink, or if a boy, then change the theme to blue. You can also go for a safari or under-the-sea theme and change the colors and images accordingly.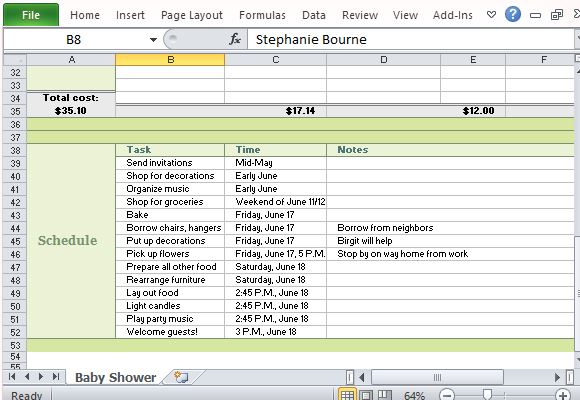 The Shopping List in the Baby Shower Planner for Excel contains categories for Food/Drinks, Decorations, and Other Supplies. For each of the items in these categories, the template automatically displays the total costs. The template is also designed to help you determine if you are staying within your budget.
With a few more tweaks, you can use this planner template for other events, such as bridal showers, baptisms, birthdays, and so many more.