When presenting to a group of people, it is important to make a good first impression and to catch their attention within minutes you step into the room. The same goes with your PowerPoint presentation itself. The audience can tell if they are in for an interesting talk just by seeing your first few slides.
So if you want to make a wonderful and arresting first impression, you can use this template we are going to review in this article. The Radial Lines PowerPoint Template is an ideal template that you can use to clearly, cohesively, and interestingly put together your presentation.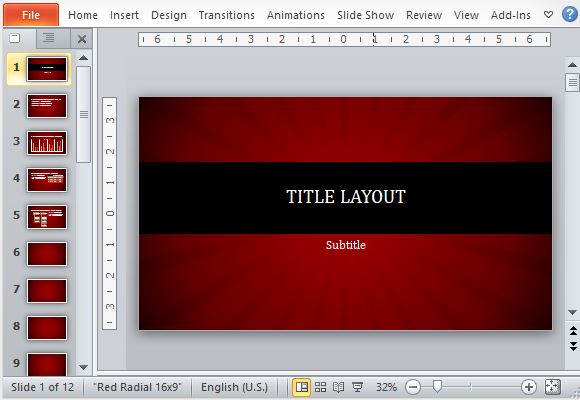 Make a Strong Impression on Your Audience
With this Radial Lines Template, you can choose from radial sunburst or concentric circle patterns that is the theme of all your slides. It has a bold red background and contrasting colors and shapes that gives your overall presentation a uniformly stylish look. It is professionally designed to look elegant and sophisticated.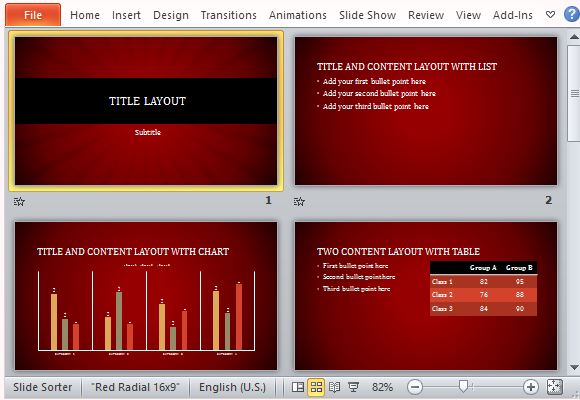 This free template contains a Title Slide with radial lines radiating from the center of the slide. Going across the slide is a black bar where you can type in your presentation title using white font. This slide design also allows you to write a subtitle underneath the title.
The template also allows you to use various formats and ways of presenting data. This 12-slide template contains a variety of layouts for you to present texts, lists, photos, and visual and numeric data. You can incorporate bar graphs, tables and even SmartArt to make your presentation more visual using this template.
It also contains blank slides with designed backgrounds for you to have an option to include whatever object you want, and for you to layout your slide however you want it.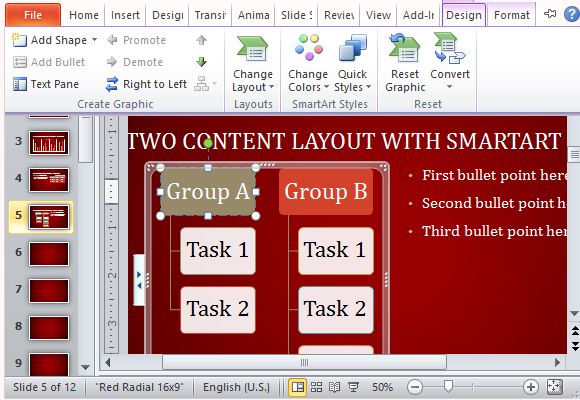 This Radial Lines Template is designed in red and has warm-colored themes, also making it an ideal template not just for business or personal use, but also if you want to make a presentation about holidays and celebrations.