Students deal with assignments on a regular basis. Like pop quizzes, recitation, and lectures, assignments are part of school life. It can be fun, boring, exciting, or special, but the important thing is, assignments are there to teach students about a particular lesson or subject. So if you want to learn and have great grades in school, you can keep track of them using the Assignment Planner Excel Template.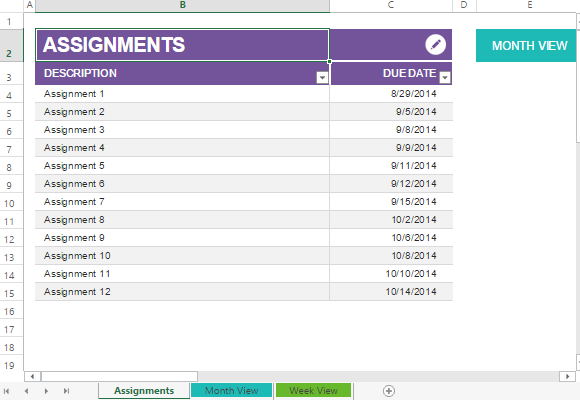 This Assignment Planner Excel Template helps you juggle all your school activities and assignments in one simple schedule companion. This Excel template not only helps you keep an organized schedule, it also helps you keep up with your assignment due dates.
This assignment template features a set of worksheets that each have different functions, easily keeping your schedules organized on a weekly and monthly basis.
The first of the three tabs, the Assignments tab, helps you create a list of your assignments and each of their due dates. This is perfect for any level of school. It can be adapted for business or work, where the assignments can be changed for tasks. Meanwhile, this list is automatically updated in the next tabs, the Month View and Week View. You can easily navigate between these tabs with the handy buttons strategically located on the right-hand side of the worksheet tabs.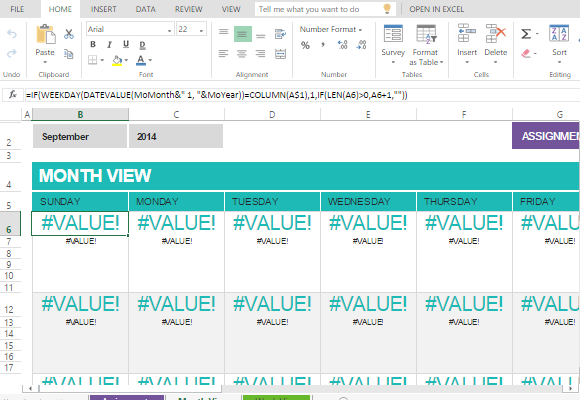 The Month View shows a clear calendar view for each month. There is a portion for selecting the month and year you want to view, and the calendar automatically displays that. For more specific schedules, there is also the Week View, which allows you to keep track of your daily schedules week after week.
As an Excel Online template which you can upload from your computer or device to your OneDrive account, you can access your schedule anytime you need it for reference or if you want to update it.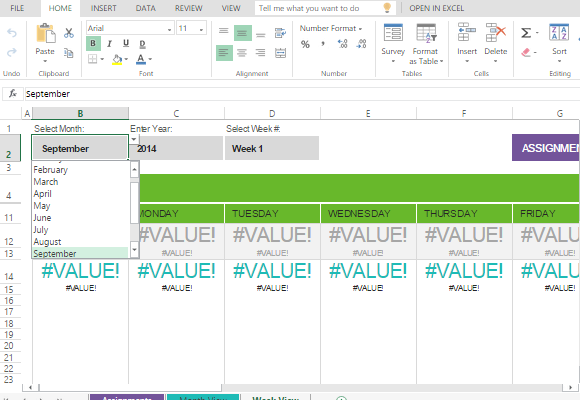 You can use your mobile phone or any other mobile device or computer so that you are always on top of your school activities and assignments.