A few details can make a big difference in making presentations more attractive and interesting. For example, this Animated PowerPoint Template with Sliding Text is a beautiful template that you can use for any kind of presentation, whether for business, school or personal use.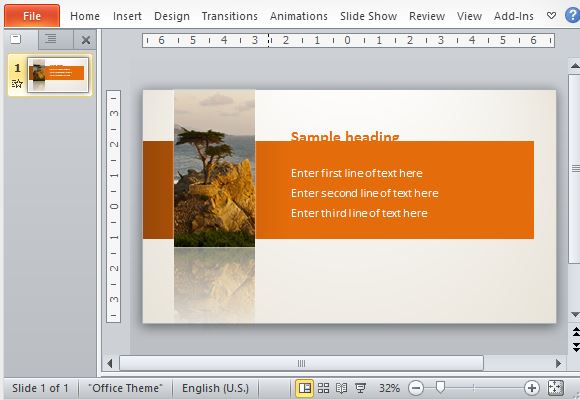 Subtle Slide Animations
This Animated PowerPoint Template With Sliding Text can conveniently help you add a whole new interesting touch to your presentation with its subtle animation.
This free Office template is a professionally designed template that you can use to animate text such as your presentation title. The animation makes the text slide out from behind the sample picture, to stop in the center of the slide. The slide also allows you to add a list of three to five subheadings or descriptions.
The slide design is in orange shades, with a picture of a tree on a cliff overlooking the sea. This sample picture can be exchanged for your company logo, products, employees, or many other photos that are related to your presentation.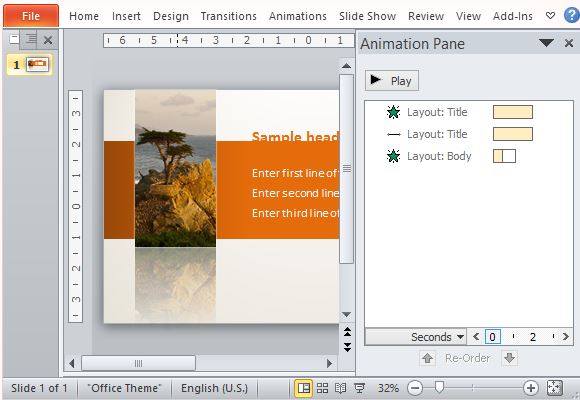 Beautiful, Elegant Animation for Cover or Transition Slides
You can use this template as transitional slides, aside from simply a title or cover slide. This will allow you to separate topics within your slide, or serve as a highlighting slide for your main points. You can use this slide for motivational talks, seminars, devotion, or religious presentations. With its sample picture, you can also use it for tourism presentations or for featuring vacation spots, natural attractions, and many more.
By changing the sample photo, you can use this template for many more presentation topics and themes. Simply select the sample picture to delete it, click on the placeholder with a picture icon, and choose your own photo from your computer. You can also customize the slide background into whatever color or background you prefer, or modify it to match an already existing presentation.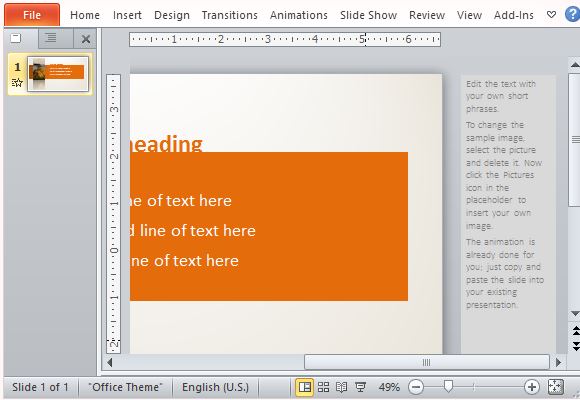 You can get this template from the Office.com link given below.
Go to Download Animated PowerPoint Template With Sliding Text