Abstract designs give a modern and artistic touch to anything. In PowerPoint Presentations, it allows you to be flexible and creative with artistic, abstract themed slides because you can use them for many presentation topics. 
The Amazing Seashell Design PowerPoint Template is one such template that can convey multiple messages to the audience, much like an actual abstract work of art. Because of this PowerPoint template's universal design, it is perfect for almost all types of presentations, whether at school or at work.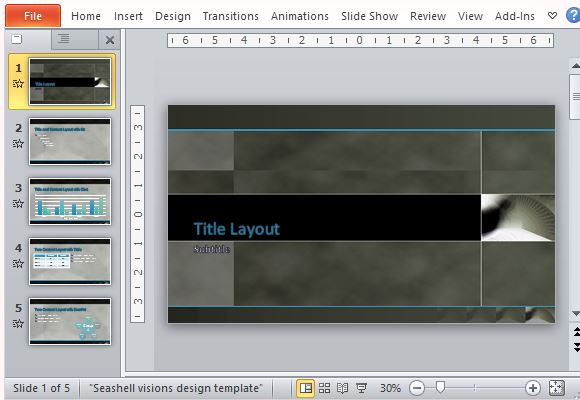 The template design is a mix of squares and rectangles, each showing its own unique black and gray pattern. To add a more interesting touch, the template features a subtle silhouette of a seashell. Its modernist design is prevalent in its monochromatic black, white and gray design, which is only broken by light blue color accents as seen in headers and other objects throughout the slides.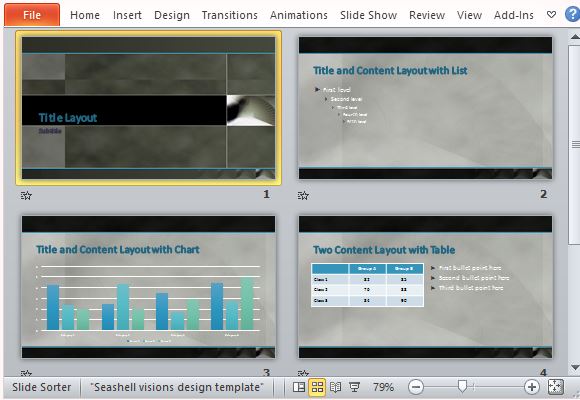 The Amazing Seashell Design PowerPoint Template contains a total of five abstract themed slides, each one with its own unique layout. The cover slide contains the Title Layout where you can clearly type in your presentation title and subtitle. The inside slides contain a light grey overlay going across the whole slides, with the black background serving as a border on top and bottom of each slide. This overlay allows you to make your content stand out while still showing some texture from the design's theme.
The slides contains layouts that allow you to present your data in many forms, such as lists, graphs, tables and SmartArt diagrams. These objects are brightened up by the blue accent color that you can see in the tables, graphs and diagrams. Looking at every slide, you will have a sense of cohesiveness and harmony with a modern, abstract flair.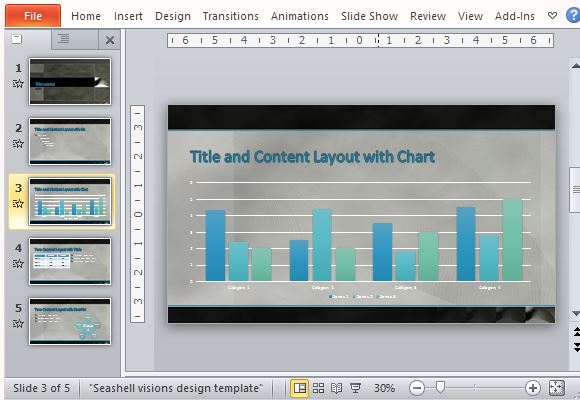 This template can be used for various presentation topics, such as business plans, college budgets, household tasks, personal diet plans, annual financial reports, and the like.