The calming blue sea and the pristine white sand is where anywhere would want to go to find peace, quiet and to recharge from life's stresses. The ocean has a unique tranquil force that would woo anyone, that is why it is a famous vacation spot for families and friends. However, if you can't go to the ocean, you can bring the ocean to you with the many amazing ocean background templates that you can use for your PowerPoint presentation.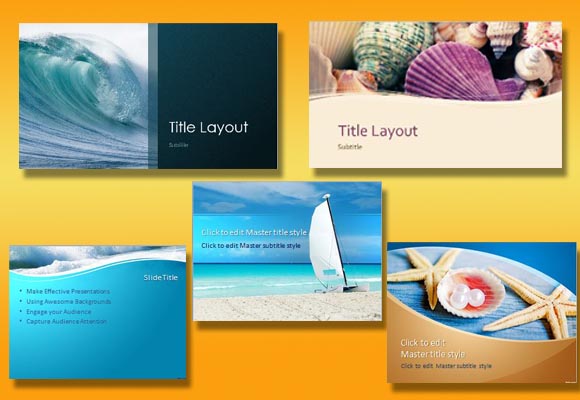 Surf the Waves
The Ocean Waves PowerPoint Online Template is a widescreen format template that would beautifully and realistically take the adventure of surfing and diving to your audience. Because it is in PowerPoint Online, you can also access, edit and share it easily with anyone wherever you are. Simply open the template through your browser using any mobile device or computer, while you can also choose to save it to your own computer and edit it from there.
This template contains 11 slides that have the surf waves on one side and a solid deep blue background for your content.
Go to Ocean Waves PowerPoint Online Template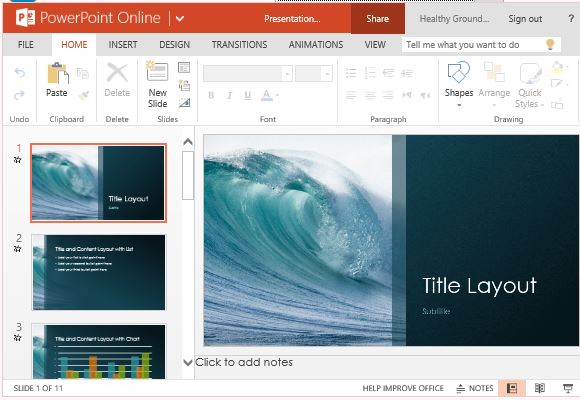 The Beauty of Seashells
Seashells are a few of Mother Nature's little works of art. Each one is a little different, as they come in varying shapes, sizes and colors. Seeing seashells brings you to the beach, and even to your childhood when everyone must have experienced collecting seashells.
This Seashells Presentation Template for PowerPoint Online captures assorted seashells and magnifies them in a beautiful photo against a sand-colored background. This template contains 11 charmingly colorful slides that would give your presentation that instant beach look.
Go to Seashells Presentation Template for PowerPoint Online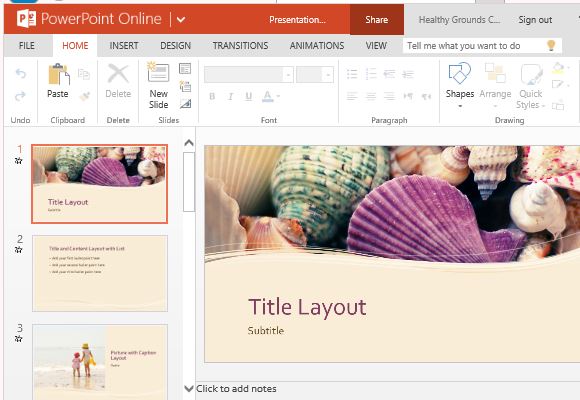 Ride with Undulating Waves
The sea brings a lot of fun and excitement, not just calm and tranquility. Water sports, diving and surfing are some of the many exciting things that people can do. For presentations involving these recreational activities, you can use this Surfing Waves Template for PowerPoint.
This template features a realistic image of crashing ocean waves. Echoing the waves is a curving border that separates the image from the slide background, where you can type in your content. The slides have various professionally designed layouts so you can present your information in many ways, such as lists, tables, charts and diagrams.
Go to Download Surfing Waves Template for PowerPoint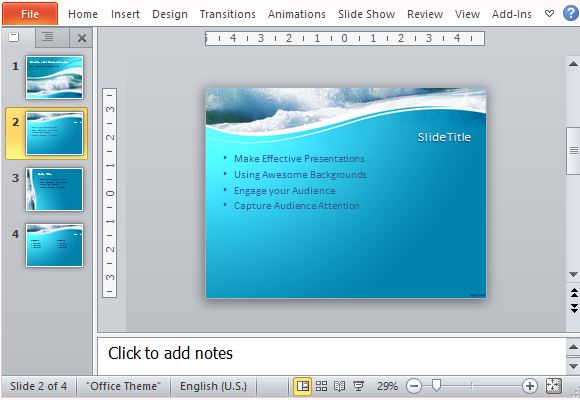 Whimsical Starfish Theme
Starfish holds a sense of awe to both adults and children alike. Its whimsical shape and attractive colors are worth looking at and even collecting. In this next template, you can see the beauty of starfish set against an ocean-themed background.
This Starfish PowerPoint Template contains a realistic photo of two starfish and a seashell containing pearls. The photo contains elements that will unmistakably take your audience back to their own memories of the beach, or even look forward to having a beach getaway again. This template is perfect for local beach themed handicrafts, swimwear, or even a beach resort.
Go to Download Starfish PowerPoint Template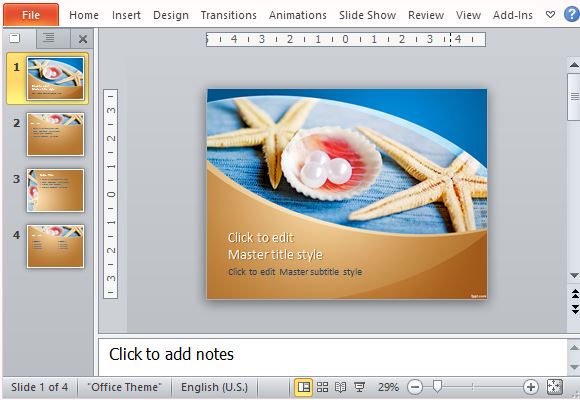 Have Your Own Picture Perfect Paradise
The beach is one of the best places to go to spend a much-awaited vacation or to simply unwind. The beach is tranquil and beautiful, much like paradise. You can actually bring this paradise to your audience using this Beach Paradise Template for PowerPoint.
This template features a sailboat resting on a pristine beach, and beyond, the view of the blue sea and the blue sky, only broken by a horizon. This template contains exquisitely designed slides that retains the theme, making your presentation look cohesive. This template is perfect for hotels, tourism, water sports, sailing, and environmental awareness.
Go to Download Beach Paradise Template for PowerPoint