While the recent editions of PowerPoint allow adding videos to slides from various sources, the same isn't all that simple for Excel; unless you are using the Web Video Player add-in. This simple add-in can be used to add a YouTube video to Microsoft Excel by simply providing the video URL. Doing so can help you insert supporting videos in Excel to back your data with facts, references and historical records in the form of informative videos.
Add the Web Video Player
To add YouTube videos to Excel, go to the Office Store using the option in the Insert tab in Excel and search for the Web Video Player add-in. Click Add to add the add-in to Microsoft Excel. You can access the add-in anytime via My Add-ins option from the Insert tab in Excel.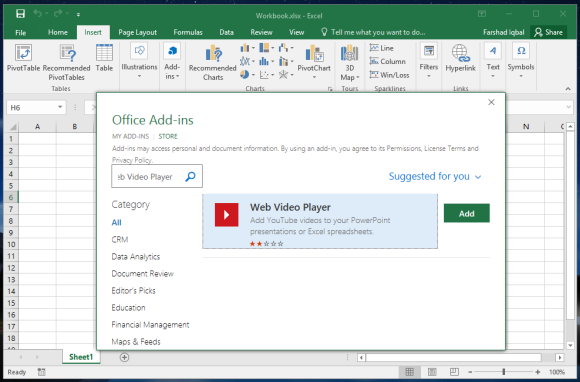 Add YouTube Video URL
In the next step, add a video URL and click Set Video. This will embed the video in Excel, from where you can easily run it anytime.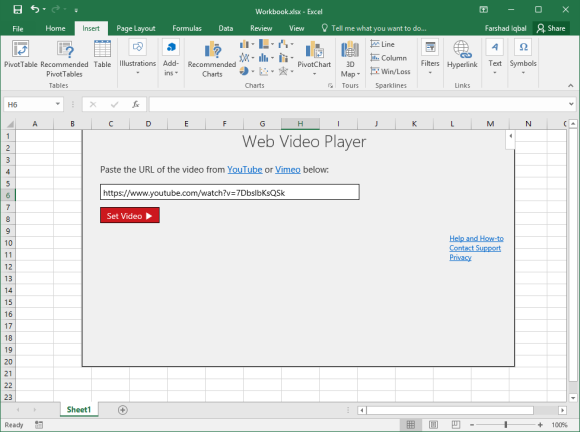 YouTube Video Running in Excel
Here is an image showing how your YouTube videos will run in Excel using the Web Video Player add-in. The add-in is great for spicing up your Excel spreadsheets and making them more informative and fun. By inserting relevant YouTube videos, you can ensure that your spreadsheets become more rich in terms of available content by providing easy to grasp information in video form instead of boring data sheets with long rows and columns.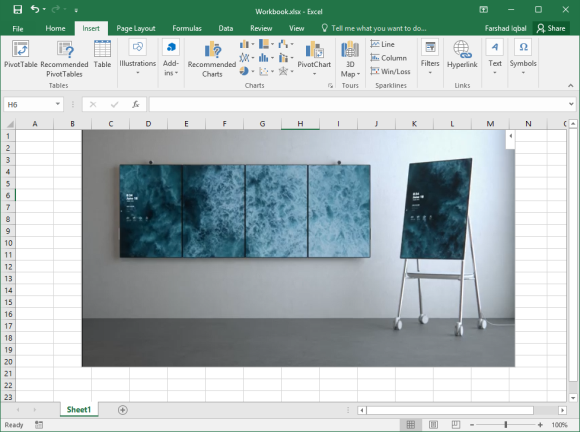 Other than the Office Store, you can also login with your Microsoft account to install this add-in via the AppSource link given below. The add-in works not only with Excel but also PowerPoint. The supported versions include; Excel 2013 SP 1 plus and later, including Excel Online, and PowerPoint 2013 SP 1 plus and later, including PowerPoint Online.
Go to Web Video Player