For high school teachers or college or university professors, it is important to create a manageable classroom setting where you can maximize learning and understanding for your students. While it is important to keep the classroom environment fun and engaging, it should also be structured. This is why academic course outlines are important in keeping classroom discussions and activities focused and organized.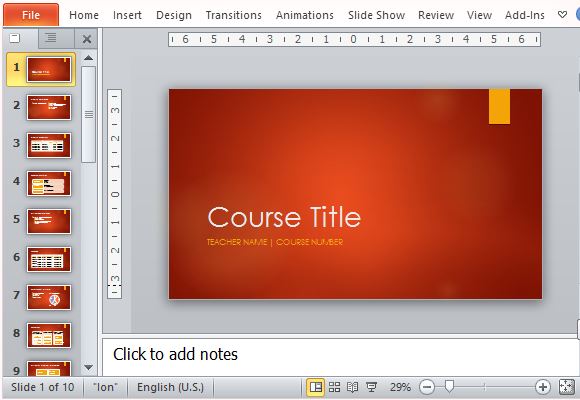 The Academic Course Template for PowerPoint is something educators can use to introduce various academic courses to students, whether for high school, college, or post-graduate studies. This PowerPoint Template is specifically designed for academic course presentations and looks formal as well as eye-catching.
Leave a Good Impression on Your Students
At the start of every school year, academic course outlines, also known as academic course overviews, are discussed by teachers or professors to acquaint students about the subject or course. Aside from this, an academic course overview also gives students an idea of what to expect from the course, as well as the requirements they need to meet. This presentation template also sets expectations for both the teachers and the students so that they can both foster good relationships for the rest of the school year.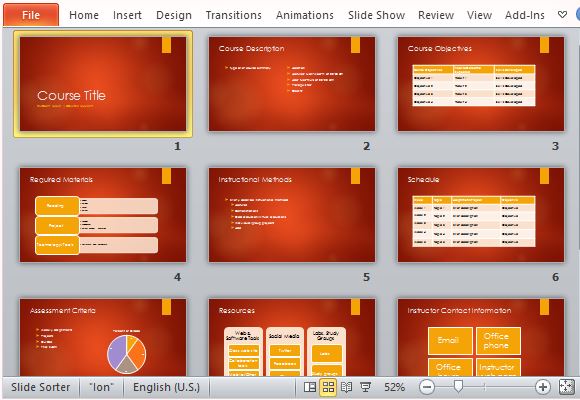 The Academic Course Template features 10 different slides that each has its unique function in creating an impressive and highly informative presentation. Throughout the slides, the classic and elegant, deep red to maroon theme is present. There is also a bookmark design on the upper right hand corner of each slide, which serves as an accent.
Overall, the template's look is more grownup, which already gives a serious and formal first impression for students, so that they will take the course, and you the professor, seriously.
Classic, Elegant Presentation Template for Any Subject
The slides starts with a classic-looking cover that lets you type in your Course Name or Presentation Title and any subtitle. Meanwhile, the inside slides' contents themselves are created for the education setting.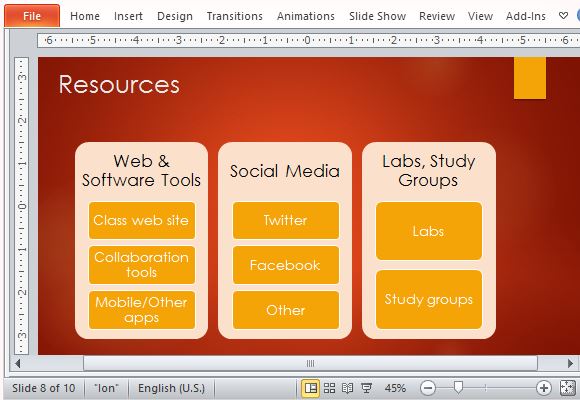 The slides allow you to include a short Course Description, Course Objectives, Course or Class Schedule, Assessment or Evaluation Criteria, etc. With the last, "Question" slide, you can also set aside enough time for students to raise questions or ask for clarifications about the course.