Being part of a club or organization has its perks. Still, it comes with its own set of demands–and part of it is budget management. Organizations function like businesses in the sense that they need funds to operate. In the same vein, these funds need to be managed and appropriated well in order to ensure the smooth operations of any organization.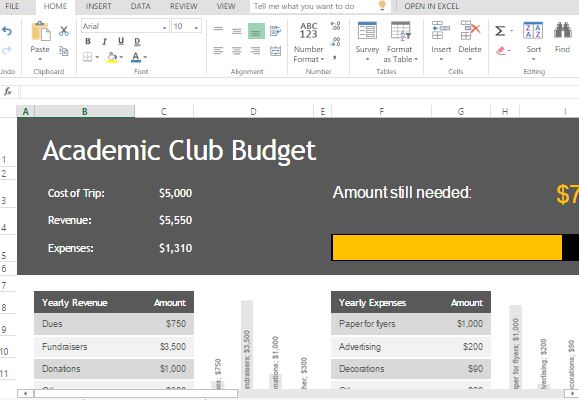 The Academic Club Budget Management Template for Excel is a beautiful, professionally designed template that can help you create your organization's budget for the year and help you to better stick to it. The budget management template allows you to categorize expenses and allocate your resources to accomplish specific targets according to your organizational goals. Having this budget template will allow you to execute events and activities for the whole year while knowing how much funds you still have left every step of the way.
Reflect Your Budget Specifics as You Update Them
The template features a summary at the very top, where you can see the Cost of Trip, Revenue, and Expenses automatically calculated as you update the table below. On one side of the header is a real-time bar that updates each time you make an expense or an income. This bar is an indicator of the Amount still needed, which is also reflected in figures.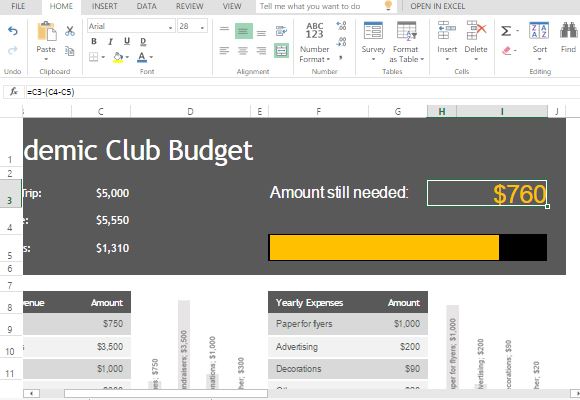 Meanwhile, the table contains the Yearly Revenue and the Yearly Expenses table and graph, displayed side by side. In the Yearly Revenue table, you can record your organization's collections in terms of dues, fundraising activities, donations, and other revenue-generating means. These are then reflected in a visual manner through a vertical bar graph. The same goes for the Yearly Expenses table, which shows the sample expenses such as paper for flyers, advertising, decorations, and other expenses. Of course, you can modify this data to suit your own organization activities and expenses.
Online-Based for Easy Access and Collaboration
Another great thing about this budget management template is its cloud-based feature. By logging onto your Microsoft account, you can easily access the template and then modify and update it anytime, even during your event.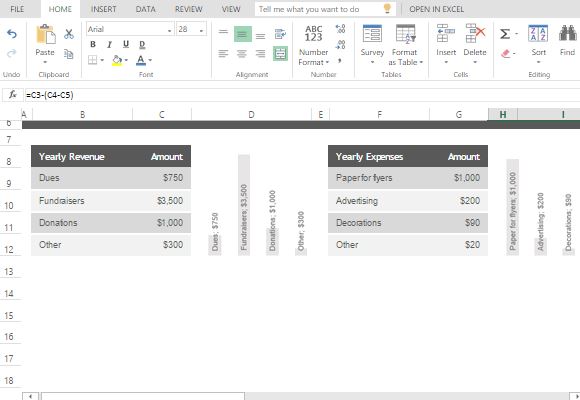 You can also easily update your club members and other stakeholders about your progress because this Excel Online template can be shared easily by email or through the various sharing tools of the template.